EXTRA 30% OFF W/CODE: CM2023
THIS MONTH'S MOST POPULAR
Dog walks made easier
The Essential Belt Bag with built-in poop bag dispenser, D-ring for accessories, and clever compartments makes dog walking seamless!
ANTI-ANXIETY
DOG CAR SEATS
Elevate your dog's car experience with our premium pet car seats, ensuring safety, comfort, and style on every journey
PET PARENT TESTIMONIALS
Read what our customers have to say about our pet accessories
NEW ARRIVAL
CARRY YOUR DOG
Take your furry friend on every adventure with our new pet carrier tote, the easiest way to transport your dog on the go!
ABOUT US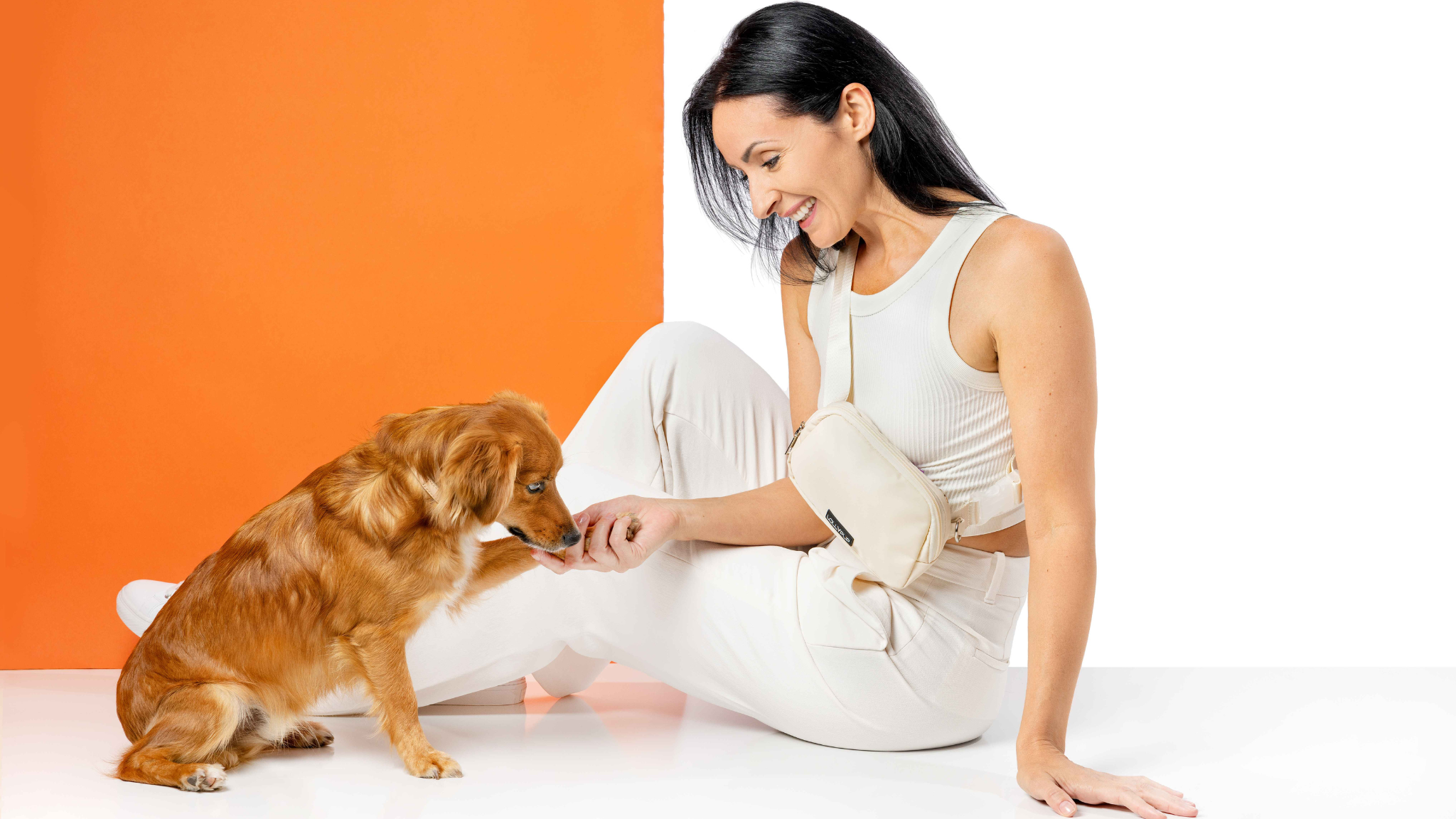 Anna, the founder of LollyPup, was inspired to create a pet accessories brand that celebrates the unique bond between humans and their furry friends. With a keen eye for design and a commitment to quality, she...
FAQ
In a world filled with choices for pet travel and dog essentials, LollyPup stands out as a brand that truly understands and caters to the unique needs of pet parents and their furry companions. With a commitment to safety, comfort, style, and as a women-owned and operated small business, LollyPup has redefined the way we travel and care for our four-legged friends.

Our Unwavering Commitment to Safety

One of the core pillars that sets LollyPup apart in the world of pet travel is our unwavering commitment to safety. We understand that when it comes to traveling with your pets, their well-being is your top priority. That's why our pet car seats and dog car beds are designed to meet the highest safety standards. Our passenger seat belt installation ensures maximum protection during car rides, while two adjustable tethers keep your pet secure.

A Comfort Revolution for Your Canine

At LollyPup, we believe that every pet deserves the utmost comfort. Our dog car beds and pet car seats are crafted with precision to provide a luxurious and cozy environment for your canine companion. The ultra-plush, supple minky lining and extra padding throughout ensure that your pet enjoys a peaceful and comfortable ride. It's like a first-class seat for your furry friend!

Style Meets Functionality

Who says pet essentials can't be stylish? LollyPup seamlessly combines style with functionality. Our high-performance vegan leather exteriors are not only chic but also scratch and water-resistant, ensuring a sophisticated look that stands the test of time. We understand that pet parents want products that complement their lifestyles, and we've made sure our designs do just that.

More Than Just Car Seats

LollyPup is not just about pet car seats; we're about enhancing every aspect of your pet's life. Our dog walking bags and dog accessories are designed with both you and your pet in mind. Our bags are stylish, functional, and equipped with all the compartments you need to carry your pet's essentials with ease. Whether it's a long hike or a quick walk around the block, LollyPup has you covered.

Essentials for a Tail-Wagging Life

From pet car seats to dog walking bags, LollyPup is your one-stop-shop for all things essential for a tail-wagging life. We've carefully curated a range of products that pet parents need to ensure their furry family members are happy, healthy, and comfortable. When you choose LollyPup, you're choosing the best for your pet.

A Brand for Pet Parents, by Pet Parents

What truly sets LollyPup apart is that we are pet parents ourselves. We understand the joys and challenges of pet ownership, and we've channeled that firsthand knowledge into creating products that make life with pets easier and more enjoyable. When you choose LollyPup, you're choosing a brand that's dedicated to making your life as a pet parent better.

TO SUM IT UP...

LollyPup is not just a brand; it's a commitment to enhancing the lives of pets and their parents. Our pet car seats, dog car beds, dog walking bags, and other dog essentials are designed to provide safety, comfort, and style. We're dedicated to making pet travel and everyday life a breeze, all while being a women-owned and operated small business. Choose LollyPup, and you're choosing a brand that understands the bond between you and your furry friend, and we're here to make it even stronger. Explore our range of pet products today and experience the LollyPup difference for yourself.
When it comes to selecting the ideal pet car seat for your furry companion, there are a few key considerations that can make all the difference in your pet's comfort and safety during car rides. At LollyPup, we understand the importance of finding the right fit, and we offer two exceptional designs to cater to different needs: the Essential Pet Car Seat and the Cloud Pet Car Seat.
Safety First: Features that Matter
Every pet car seat should prioritize safety, and at LollyPup, safety is non-negotiable. Look for features like passenger seat belt installation, ensuring maximum protection for your pet during travel. Both our Essential and Cloud Car Seats meet these standards, guaranteeing a secure journey for your furry friend.
Essential Pet Car Seat: Everyday Comfort and Convenience
For those seeking an everyday solution that's lightweight, portable, and multi-functional, our Essential Car Seat is a top choice. This pet car seat provides the perfect balance of comfort and utility. It's not only designed for car travel but can also be used as a dog bed. This versatility ensures your pet is cozy whether on the road or at home.
Cloud Car Seat: The Lap of Luxury
If opulence is what you're after, our Cloud Pet Car Seat is the epitome of pet travel luxury. With an ultra-plush, supple minky interior and extra padding throughout, it takes comfort to new heights. This car seat offers an elevated experience for your pet, complete with a boosted vantage point to enjoy the view outside. It's a ride fit for a furry king or queen.
Reducing Anxiety: More than Just a Seat
Both our Essential and Cloud Dog Car Seats are designed with your pet's well-being in mind. The thick padding throughout provides an airbag-like effect, ensuring a peaceful and soothing journey. The sturdy support in our car seats promotes a sense of balance that reduces anxiety and motion sickness, making car rides a breeze for even the most nervous of dogs.
A Touch of Style: Elevating Your Travels
Style should never be compromised when choosing a dog car bed. Our designs at LollyPup marry fashion and function seamlessly. The Essential Dog Car Seat offers a sleek and minimalist look, perfect for those who appreciate simplicity. The Cloud Dog Car Seat, on the other hand, is a statement piece, combining high-performance vegan leather with a supple minky interior to provide a luxurious look that's truly exceptional.
Conclusion: Elevate Your Pet's Travel Experience
Choosing a pet car seat is more than just a practical decision; it's about enhancing your pet's comfort, reducing stress, and elevating your travels together. Whether you opt for the versatile Essential Pet Car Seat or the opulent Cloud Pet Car Seat, both designs from LollyPup prioritize safety, comfort, and style. It's time to invest in a pet car seat that transforms car rides from a chore into a delightful experience for both you and your beloved furry companion. Choose LollyPup and embark on a journey of safety, comfort, and unmatched style.
LollyPup takes its environmental responsibility seriously. We're not just another pet brand; we're a brand with a green heart. Our products are manufactured in compliance with strict standards, ensuring that they are not only elegant and chic but also environmentally friendly.
We're committed to responsible manufacturing practices. We visit the factories where our products are made, forming personal relationships with the artisans and craftsmen who bring our designs to life. Whenever possible, we choose to work with small, family-operated factories. This not only supports local economies but also ensures that our products are crafted with care and attention to detail.
At LollyPup, we believe in protecting all animals, and that's why we do not use any animal products in our designs. We're proudly vegan and cruelty-free. Additionally, our commitment to sustainability extends to our environmental impact. We're dedicated to achieving zero carbon emissions in our operations, making choices that reduce our carbon footprint, and supporting reforestation efforts.